Le Ciliegie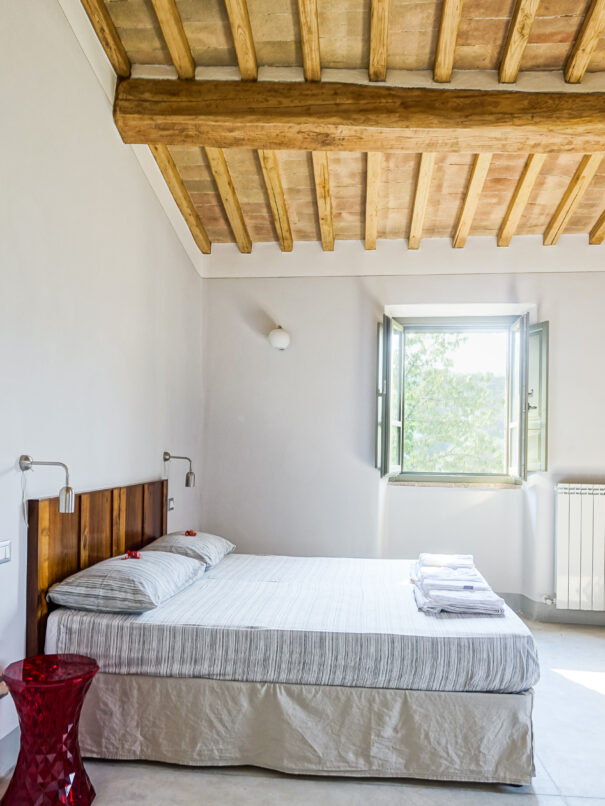 A careful conservative renovation work has transformed the old farm outbuilding, used for grain storing, into Le Ciliegie apartment.
The furnishings are no-frills, the colours are soft with a few couloured brushstrokes here and there recalling the sweetness of the ripe fruit of the cherry tree that grows luxuriantly in the garden.
Lacquered furniture and contemporary design elements dialogue with vintage furnishings, such as the old table with marble top and rolling pin that was originally used to roll out fresh pasta.
Le Ciliegie apartment is an open space of 55 square metres on two floors and it can accommodate up to 4 people. It is the ideal accommodation for both a family and a couple.
On the ground floor, there is a living room with a sofa bed with 2 single beds suitable for adults and a kitchen with dishwasher; on the first floor, there is a double bedroom and a bathroom with a large shower. The staircase connecting the two floors is protected by a gate to ensure the safety of children.
The ceilings have exposed oak beams and the floors are made of industrial cement.
A place where the guest relates to the outside but feels protected.
"We spent two nights at Claudia's wonderful home in late September with our 18 month old daughter. The space was well equipped, boasting a magnificent backdrop to enjoy your morning coffee against. Claudia went above and beyond, providing a stair guard, high chair, baby cutlery and more to ensure we were comfortable. Highly recommend and we hope to be back soon!"
"Agriturismo immerso nella natura, curato nei minimi dettagli. Appartamento le ciliegie disposto su due piani, provvisto di tutto! Ci hanno anche fatto trovare due cioccolatini e una piccola provvista per la colazione. Dettagli che fanno la differenza. Le finestre affacciano sulle colline. Pulizia impeccabile. Grazie a Claudia, Stefano e a loro piccolo per aver reso la mini vacanza speciale."