Le Lavande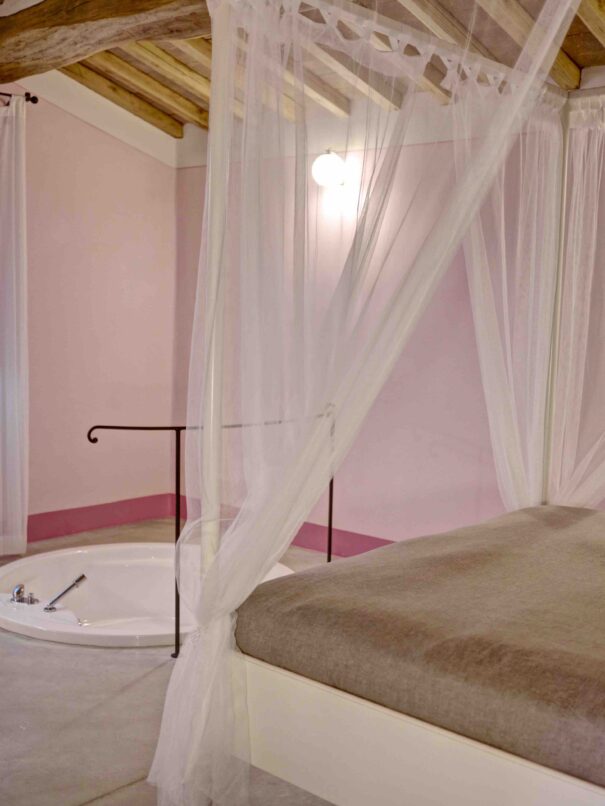 The old annex built for grain storing is now a charming place that offers guests the chance to fully immerse themselves in a relaxing experience. Nature is the protagonist, the path lined with lavender accompanies guests up to the entrance of the suite and enters through the windows with its scents. The furnishings are essential with simple shapes and neutral colours, a choice made to fully experience the space.
Le Lavande suite is the ideal accommodation for a couple, even with a child. Romantic and cosy, within its 35 square metres, it has everything you need for an unforgettable stay. The four-poster bed is a small oasis of peace, at the end of which there is a bath tub flush to the floor for a moment of relaxation and cuddling. The bathroom is complete with shower and the vanishing kitchen is basic but complete. Looking up, the ceiling with oak beams and exposed tiles conveys the feeling of being in a warm room with a classical style, while the industrial concrete floor adds a touch of simple modernity to the accommodation.
An invitation to stop the time and re-establish the lost connection with nature and yourself.
"We were so amazed when we arrived at this beautiful agriturismo. It was in spring, the house was surrounded by many beautiful flowers and fruit trees. Really like in paradise. Very friendly owners, Claudia and Stefano and their cute son, Lorenzo made us feel welcome. It was the best place to rewind and surround ourselves in nature. There is a magical gorge near by, where we could walk and bathe in the clear creek. We would love to come back and enjoy this beautiful part of Umbria."
"Coccolati con discrezione da Claudia e Stefano. Tutto ben curato e confortevole. Il luogo bellissimo e ricco di pace. L'unica cosa spiacevole... è dover andare via!"