Le Albicocche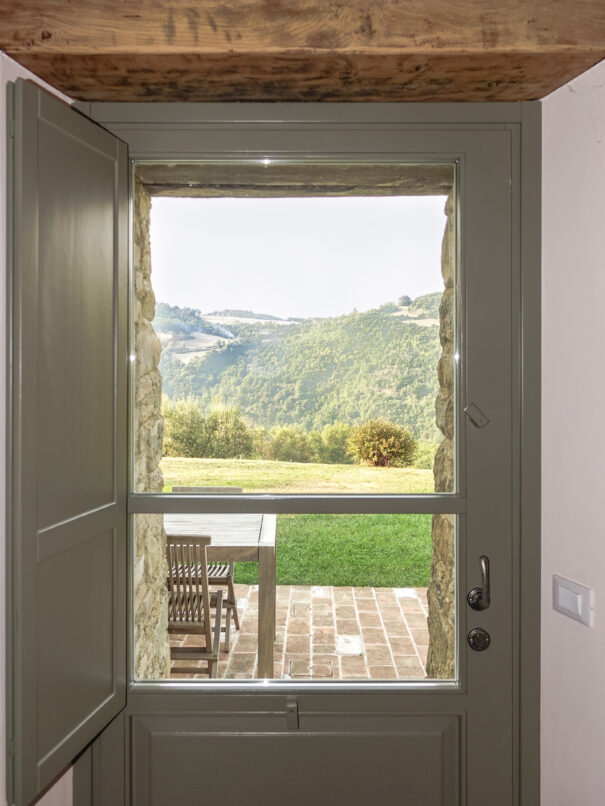 Under the ceiling of oak beams, overlooks Le Albicocche apartment. Nature is the privileged guest, entering through the windows with its paintings and inspiring the colour palette.  The walls of the apartment are a soft orange colour reminding of the sweet summer fruits and the window frames are green like the leaves of our olive trees. There is no lack of references to tradition, original elements denote a strong identity such as the small openings in the external walls that in the past housed doves and the 1-metre thick buttress at the base.
Le Albicocche apartment is entirely on the ground floor and has a double entrance from the garden.
It has two bedrooms, and it can comfortably accommodate, with its 60 square metres, up to 5 people. It is a suitable choice for a family or 2 couples, thanks to its 2 bedrooms: a very large double bedroom with walk-in wardrobe, junior bed and reading corner. The living area, a kitchen with dishwasher and a bathroom with a large shower complete the accommodation. This accommodation is also furnished with a balanced melangeof contemporary design pieces and original furnishings, maintaining the spirit of the place interpreted in a contemporary key.
A no-frills apartment, carefully thought out in every detail, modern.
"Claudia and Stefano were wonderful hosts and always happy to help. The location of the apartment was beautiful and it was super clean and comfortable. I stayed with my parents and there was plenty of room for the three of us. I recommend staying here if you want to get away from it all somewhere peaceful with beautiful scenery. I would come back!"
"Abbiamo trascorso due settimane splendide, in totale relax. L'agriturismo è tranquillo, di una pulizia impeccabile. Claudia e Stefano sono due persone fantastiche, attenti a ogni esigenza, li ringraziamo per ogni piccola attenzione avuta nei nostri confronti. L'esterno è curatissimo, la piscina ottima, il giardino accogliente. Si dorme nel totoale silenzio, abbiamo incontrato lucciole, lepri, fagiani: la natura è veramente autentica. Le città dell'Umbria sono a un passo e anche il mare non è lontano.Lo consigliamo di cuore e ringraziamo ancora per gli splendidi giorni trascorsi."