Home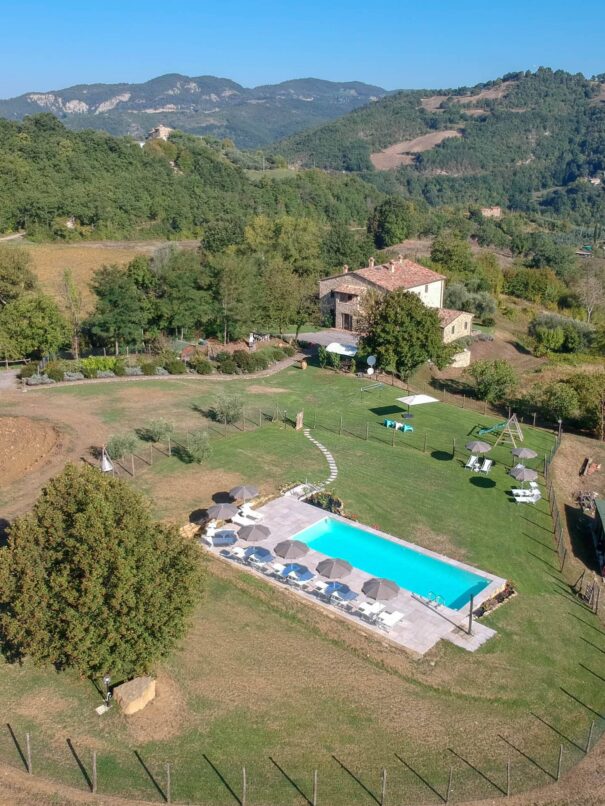 Surrounded by the peace of the Umbrian countryside, Agriturismo Montelovesco is located in the centre of a large family farm, restored and cultivated according to organic farming principles. The structure, housed in a 19th-century building, has recently been renovated and transformed into a charming agriturismo, with total respect for the Umbrian architectural tradition, and 4 independent apartments have been created.
Montelovesco is a locality with a rich history, as witnessed by the Castellaccio, an ancient fortification dating back to 1100 AD. The property is surrounded by nature and offers an authentic and relaxing experience, far from the chaos of the cities. Guests can enjoy cool nights, starry skies and the summer sound of crickets and cicadas.
The central location of Agriturismo Montelovesco makes it an ideal base for discovering Umbria and its artistic, cultural and natural treasures. Just a few minutes away, there is the E45, the main regional arterial road, which makes it easy to reach Gubbio, Perugia, Lake Trasimeno, Assisi, Umbertide, Montone and other places. In addition, it is also a perfect starting point for daily trips to Orvieto, the Marmore Falls, the Marche coast, Arezzo and Tuscany. Florence is only 2 hours away.
Nature lovers can take part in the olive harvest, walk in the surrounding area, or relax in the swimming pool surrounded by nature. The lucky ones can have exciting encounters with roe deer, wild boar, porcupines, birds of prey and the now rare river crab.
Discover the beauty of Umbria with a holiday at Agriturismo Montelovesco, where the beauty of nature is combined with Umbrian tradition and authenticity.
Il gusto in mezzo alla natura
"Siamo stati in questa splendida tenuta assieme ai nostri due cani, nel periodo di Pasqua. Claudia e Stefano sono due ospiti molto in gamba,Milanesi trapiantati in Umbria,hanno saputo recuperare magnificamente la struttura dandogli un tocco contemporaneo. Luogo ideale per chi vuole staccare dallo stress godendosi belle passeggiate, ma anche visitando borghi a poco più di mezzora di auto. Non vediamo l'ora di tornare."
"Casolare nel cuore delle colline intorno a Gubbio, dove si puo' soggiornare nella quiete e a stretto contatto con la natura. L'appartamento è confortevole, arredato con gusto e molto pulito. L'area esterna è curata, con possibilità di pranzare e cenare all'aperto. Un sentito ringraziamento a Claudia e Stefano, per la loro gentilezza e particolare attenzione verso gli ospiti. Consigliato!"